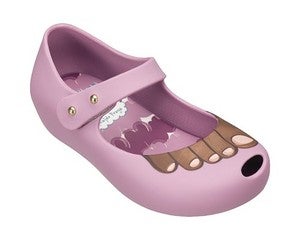 $

32.50 - On Sale
On Sale! Originally $65
Label: Melissa Shoes
Description: Super cute Mini-Melissas for Kids! Classic ultragirl shape re-designed by amazing Brazilian designer 'Ronaldo Fraga', this style features a colourful foot-print motif. Infused of course with Melissa's sweet bubble gum smell and finished with our favourite well padded sole, you will be adding comfort, style and personality to your little one's' feet. Colours: Blue Matt and Purple Matt.
Made in Brazil
Material: PVC
About Melissa:
Made from eco-friendly mono materials that can easily be disassembled and recycled, Melissa Shoes utilize a zero waste policy in their production. This means 100% of materials are used or recycled. So there is no waste and no dumping excess into landfill.
Not to mention that Melissa shoes are completely cruelty free - with no animal products whatsoever and the very best working conditions for all makers and employees!